10 Thursdays, 5:00 – 6:00 p.m. 
Book: Fala Brasil: Portugues Para Estrangeiros by Pierre Coudry and Elizabeth Fontão ISBN: 9878571130821. If you already have the book, you are all set. If you have not yet purchased a copy, please wait until we get in touch with you as we might be able to use online resources only.
Location: Taught online via Zoom. An invitation and explanations on how to join the meeting will be sent to registered students.
Instructor: Ryan Morrison
Price: $167 (early registration) $185 (after 1/15)
Dates: 01/26 – 03/30
Need more information? Attend our informational meeting on January 11th or get in touch.
This class is for you if you have never studied Portuguese. Embark on a new adventure; one that will be rewarding and fun and an enjoyable challenge!
By the end of the class, students will be able to recognize familiar words and basic phrases concerning themselves, their family, and immediate surroundings when people speak slowly and clearly. They will understand and be able to pronounce familiar written names, words, and very simple sentences. They will be able to interact in a simple way provided their interlocutor is prepared to repeat or rephrase words or communications at a slower rate of speech. They will be able to ask and answer simple questions in areas of immediate need or on very familiar topics. They will be able to use basic phrases and sentences to describe who they are, where they live, and people they know.
Take the first step: sign up below!
If ou have questions, please attend our informational meeting on January 11th or get in touch.
Map of the Portuguese-speaking world (European and Brazilian)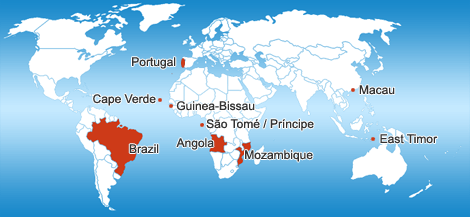 Out of stock