A Special « Cinq à "Sept" (not really 7) » to wish you a Happy New Year and start 2021 on the right track!
When: Wednesday, January 6, 2021 from 5:00 p.m. to 6:00 p.m.
Where: on Zoom. Link to join will be sent to registered participants
Price: Free
Language of the evening: Well… it will depend! If many languages are represented, we can gather in smaller groups in breakout rooms and speak the various languages we teach, just as we do when we meet in person.
RSVP by January 4, 2021 so that we have time to get organized and send you a link to join!
We normally celebrate the beginning of the year adopting the French tradition of the galette des rois, this wonderful golden pastry made of puff pastry dough sandwiching a rich frangipane filling hiding a bean, a plastic or porcelain trinket, called une fève, and dressed with a paper crown while awaiting for its king or queen of the day. Every year, we turn to Standard Baking Co. to provide this delicious pièce de resistance as we gather, Champagne in hand, to wish one another a Happy New Year.
This year is of course a bit different…
While visions of Covid vaccines dance in our minds, let's not lose our heads for a few morsels of sweet bread and giggly company!
We will ring in the year with Zoom(ie), our BFF (or at least for 2020), and throng our screens with our finest online attire and Champagne for an early evening apéritif (a big hoopla for "happy hour"). We will get a chance to discuss your resolutions or hopes for 2021.
May I even suggest we sweeten it with a bit of color to brighten the mood ? A little Crème de Cassis (attention… 16° of alcohol or it's not worthy of the name) will go a long way to turn this Champardennais into a Burgui-Comtois. (Valérie will go over a few interesting facts hiding behind the words, the traditions, etc.) 
Here is "the" official composition of a "Kir":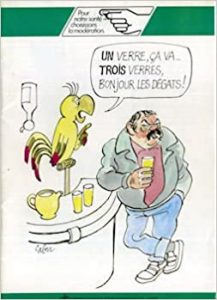 – 1/5 of crème de cassis
– 4/5 of Bourgogne aligoté
But for the occasion, we will prefer its Champagne version, le Kir royal, in which the Burgundy wine is replaced with Champagne.
Long ago, the proportions were closer to 1/3 to 2/3 and many ladies continue to prefer this tradition. It's up to you! We won't be in your kitchen preparing your beverage of choice. All we have to say is remember that alcohol is always to be consumed with moderation!
Un verre ça va, trois verres, bonjour les dégâts ! (1985 slogan for the Comité français d'éducation pour la santé, illustrated by Cabu)
And for a little video of last year's gathering: click on this link.
You may also like...
If you cannot find a group class, if your schedule does not enable you to attend regular weekly meetings or if you learn better in a one-on-one setting, you may want to consider private or semi-private instruction with one of our instructors.