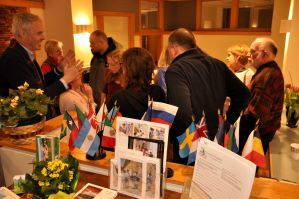 When: Wednesday September 13th, 2023 from 5:00 pm to 6:30 pm
What: A social gathering to bring our community together and welcome new members
Where: Our brick and mortar place in the Old Port, 75 Market Street, Suite 305, Portland. In case you don't remember where that is… check our website here.
Important note: we will assume that you have no symptoms of cold, covid, etc. that could put others at risk of contracting a serious condition. We thank you kindly for your attention to this matter.
Our Fall 2023 Session is around the corner!
To kick off the fall session, we will be hosting our fall open house in our space, like we used to!
This social gathering will be an opportunity to:
practice your language skills,
meet – or meet again — our instructors and your fellow students,
ask questions regarding our programs,
get your level evaluated, and
have us  recommend the classes and programs best suited for you.
Come by, say hello to old friends and make new ones while learning about our programs and getting your level evaluated. Bring a friend or two and introduce them to the school! And enter a drawing to win a class for the fall!
If you are unable to meet in person, we will arrange to answer you questions by email, phone or zoom. Please contact us by email or call the school.
Our schedule of classes and workshops will be available online in late August and registrations will open at the same time.
In the meantime, we remain at your disposal should you have questions.
We look forward to seeing you soon!