During the second week of January, we are offering you a large selection of FREE ONLINE CLASSES in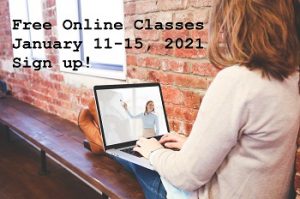 Arabic, Chinese, French, German, Italian, Japanese, Portuguese, and Spanish!
These FREE ONLINE CLASSES serve multiple purposes:
It gives you a chance to try our programs at no cost before you decide if you want to study with us;
It gives us a chance to evaluate your level and recommend the program best suited for you;
It makes us happy see you between sessions!
It gives you a chance to practice your language skills between sessions;
It helps you stay connected and engaged with an enriching community you enjoy!
What else is there to do during Covid-19?
These programs are FREE but you must register. Please visit the language pages of your choice and make your selection (one, two or as many classes as you'd like) as soon as possible — some classes fill up quickly!
The deadline to register for these FREE CLASSES is January 10, 2021.
We look forward to seeing you "in class" (zoom, zoom, zoom!).