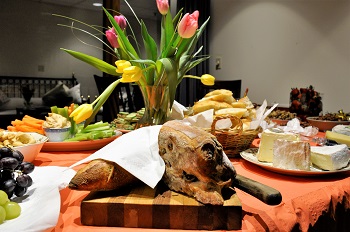 You're invited to our annual winter Open House!
Let's celebrate the start of another year, our 28th, with food, drinks, and most importantly, you!
TUESDAY JANUARY 14 from 5:00 pm to 7:00 pm at the school
75 Market Street, Suite 305 (3rd fl.) in downtown Portland
SNOW DATE: in case of inclement weather, we will postpone our open house until Thursday January 16th at 5:00 pm. We will make an announcement on this page, on our Facebook page, and on our Home page.
Enjoy refreshments, snacks, and the company of language friends;
Practice your language skills
Bring a friend who speaks an "exotic" language, just for fun and to introduce him/her to our community;
Meet some of our instructors and inquire about our programs;
Receive assistance in selecting the classes best suited for you;
Benefit from our early registration discount until the end of the day;
And at 6:30 pm, participate in a drawing to win a free 10-week winter class!